Probagger 12
Sale price available for limited time. Buy today: $8,000     Financing Available!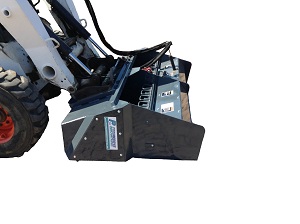 A unique precision skid-steer operated (universal mount) sandbagging machine. Produces Sandbags with a 2 or 3 man crew. Easily produces sandbags at a rate of about 400bags/hour with a 3 man crew. The ProBagger 12® fills 12 standard poly or burlap bags, with sand or gravel, per cycle. Sandbags can be both filled and released on sandbag levee build site for maximum efficiency or work in concert with multiple units at a central sandbag filling site.
The ProBagger 12® is designed to not overfill bags, so as to make more watertight levees, or switch modes if 100% full bags are required. The best sandbag levees are made by half-filled sandbags so as to interlock and prevent seepage (per the U.S. Army Corps of Engineers recommendations).
Consider a typical sandbagging operation. Typically there are skid-steer loaders on site with scores of volunteers sandbagging. Why not put the skid-steer loaders to work and the volunteers can, rather than make sandbags, help families place sandbags!
Also, rather than double trucking, have sand delivered on site and fill the sandbags on site. When sandbags are made on site there is no need to tie them. Simply stack one sandbag over the open end mouth of the other (per the U.S. Army Corps of Engineers recommendations). ProBaggers can quickly fill the sandbagging needs at one site and move to the next.
Furthermore, consider the sandbags per hour/dollar when buying a sandbagging machine. Rather than buying a very expensive sandbagging machine that makes more than a +1,000 sandbags per hour why not use multiple ProBaggers and perhaps at multiple sites. For example, 4 ProBaggers can make 1,600 sandbags per hour for a very reasonable cost of ownership!
This attachment is a must for not only municipalities and others involved in flood control, but also for erosion and sediment management, construction crews and landscapers. Any material that can flow into a bag can be filled faster and with ease using the ProBagger 12®.
No special bags required
Fills standard 14in x 26in poly or burlap sandbags.
Fills hundreds of sandbags an hour with little training (other than experience operating skid-steer loaders)
Maximizes flood fighting potential of skid steer loaders
Call Now! 612-423-9049
How it Works:
The ProBagger 12® is a unique skid-steer attachment that is a sandbagging machine. This skid-steer bucket allows the operator to fill standard 14in x 26in poly or burlap sandbags, filling 12 sandbags at a time. Simply attach the bags, scoop the sand (or other material), tilt the bucket back up which fills all twelve bags; drive to your desired location, tilt the bucket and release the hydraulics and the bags are placed standing.
Operating the ProBagger 12® requires a skid-steer loader and operator and 1 or 2 workers (preferably 2). The ProBagger 12® is essentially a specialized bucket that holds, fills, transports, and releases 12 sandbags with each scoop and release. The ProBagger 12® performs these actions by operating in this cycle:
1st – The skid-steer operator first moves the ProBagger 12® into the upright loading position. This is done by lifting the loader's boom and tilting back the bucket into an upright position with the bag holder paddles at about chest height of the workers who are loading sandbags. The operator then cuts the engine turning off the loader.
2nd – The 2 workers very quickly and easily load empty sandbags on the 12 spring loaded paddles of the bag holders. In this manner, the ProBagger 12® is loaded with sandbags in seconds!
3rd – Actuate the hydraulic cylinder (powered by the auxiliary hydraulics of the loader) locking the bags firmly. This causes all 12 hydraulic paddles, opposite the spring paddles on the bag holders, to firmly hold the bags for filling.
One can test whether the bag tensioning needs adjusting by, at this stage (with loader turned off for safety), testing whether the bags are firmly held by the bag holders by grasping with hands and tugging on bags. Bags are tensioned correctly when they are not easily pulled off by tugging nor are being damaged by severe tension. The ProBagger 12® has a hydraulic cylinder run-out stop to limit and adjust the tension of all the bags simultaneously as well as 12 threaded bolt paddle stops to adjust individual paddle and bag tension. Thus, all 12 bag holders can simply and easily be adjusted prior to a session of sandbagging so bags do not fall off or are damaged and so as to accommodate any change in size or quality of sandbags being used. (For best results, we recommend using one homogenous size/variety of bag on all 12 bag holders at a time before switching to another size/variety rather than using a combo of more than one size/variety at once).
4th – After both workers step away from the machine to a safe distance and have indicated they are clear, the operator again turns the ignition starting the loader. The skid-loader operator lowers and drives the bucket into the sand pile and lifts straight up so as to let the excess sand fall back into the pile to achieve ideal half-filled bags at about 40-50lbs. (In the event 100% full bags are needed, before operating, remove the 2 bucket full-guides and then simply operate with full-guides removed. Full-guides are easily installed/uninstalled and are fastened by bolts).
5th – Drive to desired sandbag destination.
6th – Actuate the hydraulic cylinder so as to release the bags from their bag holders. And then tilt the bucket to a 45-degree angle near but above the ground (or surface upon which bags are to be left) thus opening the gravity activated spring actuated bag door releasing the sandbags from the ProBagger 12® at the desired location.
And repeat.
In this manner, with each cycle, and commonly less than 2 minutes per cycle, 12 sandbags are filled and set in reach of their final destination for placing stacked in a barrier.  Easily and with minimal effort and fatigue sandbag production rate of 400 sandbags/hr has been achieved for extended periods of time. (For maximum efficiency place sand piles close to where sandbag barrier is to be built with room to work safely).
We welcome your questions and look forward to assisting you so please call us: 612-423-9049 or email us through our contact us page (CLICK HERE)