Create Super Heavy Duty Fast-Built Levees™ with the:  Quick Levee Builder™
Quick Levee Builder™
Sale price available for a limited time. Buy today: $28,000     Financing Available!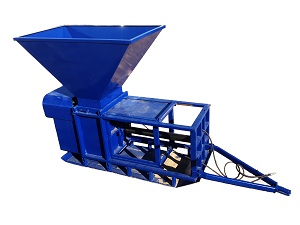 A super heavy duty levee building machine. The Quick Levee Builder™ creates a super heavy duty Fast-Built Levee™ that is easy cleanup and may be stacked on. The Quick Levee Builder™ can produce a levee, utilizing sand or dirt, that is 42in high and 200ft long in less than 90 minutes (an equivalent to +10,000 sandbags!). Ideal for flood control, beach erosion management, heavy surf suppression, or oil/sewage/mud containment.
Creates an easy cleanup super heavy duty Fast-Built Levee™ that replaces the need for emergency earth-built or clay levees
100ft of super heavy duty Fast-Built Levee™ replaces the need for more than 5,000 standard sandbags
Loads and trailers easily
Easy helicopter site to site transport
Call Now! 612-423-9049
How it Works:
The Quick Levee Builder™ is operated by a tractor and creates Fast-Built Levees™ (to learn more about Fast-Built Levees™ (CLICK HERE).  The Quick Levee Builder™ has a hydraulic cylinder (powered by the auxiliary hydraulics of the tractor) that reciprocates a plunger that cycles back and forth. The Plunger can cycle back and forth continuously nonstop as the hopper is tendered sand or dirt by skid-steer or payloader.  When the plunger cycles back (towards the tractor) it opens an aperture at the base of the hopper to drop its contents (sand or dirt) into the plunger chamber. When the plunger cycles forward (toward the levee that trails behind the unit) it shoves the fill behind the machine advancing the tractor (in neutral gear) and Quick Levee Builder™ forward. In this cycling fashion, the machine has an intake stroke that empties the hopper into the plunger chamber and an exhaust stroke that exhausts the sand or dirt from the chamber out the back of the unit into the specialized plastic poly Fast-Built Levee™ tube. Thus, as the Quick Levee Builder™ fills the poly levee tube it leaves behind a Fast-Built Levee™ and advances the Quick Levee Builder™ and tractor forward. The specialized plastic poly tube is fastened to the rear of the unit by a hood that tensions the poly tube with two scissor jacks that raise and lower quickly and easily with a speed wrench that sits in a holster at the side of the unit. The poly tube comes in an accordion folded tube like cartridges and quickly and easily installs on the hood by hand with two persons and is then tensioned by the hood jacks. Loading the poly, tensioning the hood jacks, and producing Fast-Built Levee™ is fast and easy and requires little training beyond experience operating skid-steer loaders and tractors.
Operating the Quick Levee Builder™ requires a 100HP minimum tractor and operator. The tractor does 3 things. (1) It powers the Quick Levee Builder™ by way of auxiliary hydraulics. (2) it steers the Quick Levee Builder™ as it contours around structures, buildings, and terrain to shape the Fast-Built Levee™ it leaves behind. (3) It tows the Quick Levee Builder™ on-site across terrain to place levee in desired locations. Also, operating the Quick Levee Builder™ requires a skid-steer or payloader and operators or perhaps two skid-steer loaders and operators to tender the hopper with sand or dirt. Thus a two/three man crew (One tractor and operator with the Quick Levee Builder™ attached and one/two loaders and operators with buckets attached so as to dump into its hopper) can operate the Quick Levee Builder™ at high speed and efficiency. In this manner, a 42in high Fast-Built Levee® can be produced at rates greater than 130ft/hr. This is a sandbag equivalency rate of greater than 6,300 sandbags per hour and greater than 140,000 sandbags per day! Furthermore, This Fast-Built Levee™ costs less per foot than sandbags! Compare to the cost of sandbags! (CLICK HERE TO COMPARE)
               We welcome your questions and look forward to assisting you so please call us: 612-423-9049 or email us through our contact us page (CLICK HERE)