Progressive Innovations…
Innovations In Flood and Erosion Control Equipment.
Progressive Innovations LLC is based in Cambridge Minnesota, USA, we at Progressive Innovations are enthusiastic about developing solutions to perplexing problems. We have developed powerful flood control systems and equipment that has created solutions for flood and erosion control. Our flood control technology includes the Probagger 12® a unique skid loader operated sandbagging machine and the Instee Levee Builder™ an exceptionally fast Levee building machine. These two machines are maximizing the flood fighting potential of skid loaders.  Our Quik Levee Builder™ is a super heavy duty levee building machine capable of making a 42-inch high levee in a single pass. Both of our Levee building machines, the Instee Levee Builder™ and Quik Levee Builder™ create Fast-Built Levees™. Fast-Built Levees™ are a water-tight, stackable, easy cleanup levee. These Fast-Built Levees™ replace the need for sandbags in all flood applications except those in very tight places where sandbags are still required. This means that Fast-Built Levees™ can minimize an entire city's need for sandbags in a flood event to less than 1/100th the current need. These tools are creating affordable flood fighting solutions for governments, businesses, and landowners.
 Flood Control Systems 

Powerful Flood Control Systems to protect homes, businesses, and infrastructure in every flood event.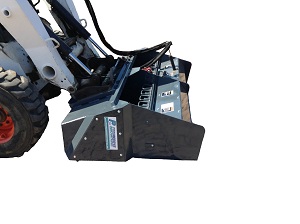 A unique precision skid-steer operated (universal mount) sandbagging machine. Produces Sandbags with a 2 or 3 man crew. Easily produces sandbags at a rate of about 400bags/hour with a 3 man crew. The ProBagger 12® fills 12 standard poly or burlap bags, with sand or gravel, per cycle. Sandbags can be both filled and released on sandbag levee build site for maximum efficiency or work in concert with multiple units at a central sandbag filling site.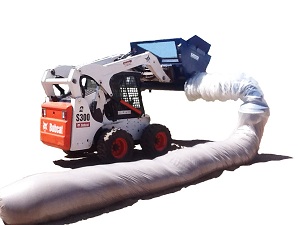 The Instee Levee Builder™ is an exceptionally fast skid-steer operated (universal mount) levee building machine. The Instee Levee Builder™ can produce an 18in high Fast-Built Levee™ at the rate of 400ft per hour. This kind of Fast-Built Levee™ is stackable and can create levee barriers of substantial height. It was designed to use sand or clean fill dirt, which is cheaper than sand, to protect property, stop beach erosion, and contain spills.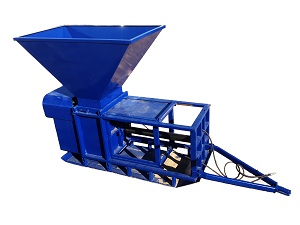 A super heavy duty levee building machine. The Quick Levee Builder™ creates a super heavy duty Fast-Built Levee™ that is easy cleanup and may be stacked on. The Quick Levee Builder™ can produce a levee, utilizing sand or dirt, that is 42in high and 200ft long in less than 90 minutes (an equivalent to +10,000 sandbags!). Ideal for flood control, beach erosion management, heavy surf suppression, or oil/sewage/mud containment.
Flood Control Systems
With several people living in flood plains and flood-prone areas, flood control systems are essential to protect your home or business. Since the advent of technology, several innovations have been made available to make the process easier of creating water barriers to prevent flooding. Several pieces of residential flood barrier control equipment are currently on the market that performs an efficient job and with less effort.
ProBagger 12
One of the important innovations is the ProBagger 12 sandbagging machine. It is a machine designed to produce approximately 400 bags/hour with the help of a 2-3 man crew. This sandbag filler machine can work on 12 standard poly or burlap bags for every cycle. The equipment is quite flexible and can be used at the sandbag levee build site or at a different central filling site.
The ProBagger 12 is created to fill the bags at 100% without any occurrences of overfills. As a result, the sandbags are watertight. However, the best created levees are half filled to allow interlocking with other bags to eliminate seepages.
Instee Levee Builder
This a universal mount levee building equipment that can produce an 18 inch high levee at a rate of 400ft/hour. It can either use sand or dirt to create these barriers. However, dirt is cheaper than sand and is more efficient as a residential flood barrier. These Fast-Built Levees can replace sand-filled bags to create a water levee that is stackable and easy going when performing a cleanup.
As mentioned, the Instee Levee Builder can create stackable water levee to create a flood barrier system that is able to control beach erosion, and stop property damage. The Instee Levee Builder requires two skid-steers and operators to perform an efficient and uninterrupted levee production. The overall cost of producing the water levee is relatively low than that of producing sandbags.
Quick Levee Builder
This a heavy water levee building equipment that quickly produces stackable levee. Same as the Instee Levee Builder, it allows for easy cleanup. In less than one and a half hours, it is able to produce 42 inches high and 200ft long of levee. It also uses dirt or dirt to create water levee.
The Quick Levee Builder is perfect for beach erosion control, sewage/oil/mud repression, or heavy surfing suppression. With 100ft of fast-built water levee, this machine replaces the work done by 5000 sandbags. Some of its advantages include easy transportation to different sites and its ability to load quite easily.
With these sand filling devices discussed, clients can create efficient flood control systems. Consequently, floods would have been managed effectively.